NBA Stars arrive in the Philippines to play Gilas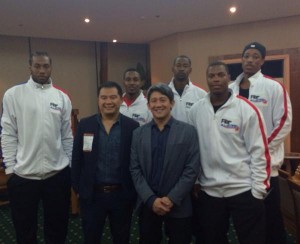 NBA players Kyle Lowry, Terrence Ross and DeMar DeRozan of the Toronto Raptors, Damian Lillard of the Portland Trail Blazers, and Kahwi Leonard of the San Antonio Spurs arrived in the Philippines to play against the Gilas Pilipinas.
Clippers Blake Griffin and Pacers Paul George will be in the roster of the NBA team. In addition, Tyson Chandler, Brandon Jennings, Ed Davis and Nick Johnson will be playing also.
Gilas team will have exhibition games with the selected NBA team before leaving the Philippines to play in the FIBA World Cup in August in Spain.
Gilas team, spearheaded by coach Chot Reyes, captured the third place in the recently-concluded FIBA Asia Cup in China. This is the first time the Philippines grabbed the highest trophy in the history of the Cup.