NU lambasts Adamson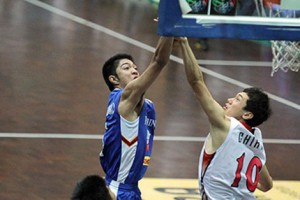 MANILA, Philippines - National University Bulldogs annihilated the Adamson University Falcons on Wednesday night, to a 62-25 rout, to take the solo lead in the UAAP Season 77 men's basketball tournament at the Mall of Asia Arena.
This is the most lopsided victory this season for any game, 62-25 with 37 points difference. The Bulldogs started hot early scoring the first eight points and never looked back. National University now is in the top of the standing with 4-1 win loss record.
JJ Alejandro led the way for the Bulldogs with a team high 13 points. Gelo Alolino added 10 points and Troy Rosario had a double-double with 10 points and 10 rebounds. It was the Bulldogs' suffocating defense all throughout the game that restrained Falcons offense that sent them to their 4th consecutive losses; they are now tied with the University of the Philippines at the bottom of the standings.
"I didn't see them relax, "said coach Eric Altamirano about his Bulldogs. "I saw their body language even before the game that they were much focused."
Don Trollano has seven points for the struggling Falcons, which was doomed by its 9 of its 57 attempts from the field. The Adamson's 25 point output was the lowest in the league since UP Fighting Maroons 39 points versus the University of Santo Tomas last Sept. 7, 2013.