NU trounces UE in a squeaker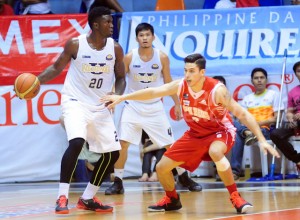 Manila, Philippines - The National University Bulldogs overpowered the University of the East Red Warriors, 57-55, in a hotly contested match in the UAAP men's basketball tournament Sunday at the Smart Araneta Coliseum.
Alfred Aroga had 18 points and 15 rebounds to lead the Bulldogs offensive attacks. Aroga also blocked the possible tying shot of Red Warriors' Roi Sumang as time expired.
Moreover, Glenn Khobuntin added 14 points and eight rebounds for the Bulldogs.
"It was a tightly-contested ball game. It could've gone either way. I just like to commend the boys for their resiliency. They refused to lose," said NU head coach Eric Altamirano. "Come third quarter we got our acts together. We got back to where we're really strong at."
For the Red Warriors, Bong Gallanza and Sumang had 16 points each. University of the East entered into losing three straight games.
National University went back on top of the UAAP standings with a 5-1 record.