Pacquiao officially a professional basketball player
B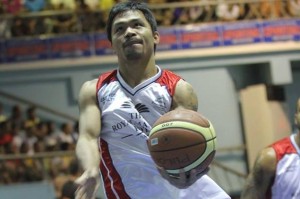 oxing superstar Manny Pacquiao is now officially a professional basketball player as the PBA expansion team Kia Motors' selected him 11th overall pick in the 2014 Gatorade PBA Rookie Draft Sunday afternoon at Robinson's Manila..
If Pacquiao may have been selected by other PBA team in the first 10 picks, then it would have caused a dilemma. As Pacquiao was available for the 11th pick, Kia motor's make sure that their coach would not be picked by any other team in the draft as they used their first round pick to select him.
Pacquiao was the first rookie to be drafted by KIA and also their first coach in the PBA. KIA also made the Boxing Champion the lone playing coach of the league.
At the age of 35 the Sarangani representative and the eight-division world boxing champion became the oldest rookie selected in the PBA draft history.
"He was always our first priority, he's our coach," KIA Philippines President Ginia Domingo said in an interview.
"I hope that his work ethic and star power reflects on them," Domingo added. "They should always give their 100 percent when they are with their coach."
Rene Pacquiao, cousin of Manny, was also selected by KIA as the first pick in the third round. Rene is a Cebuano standing 6 foot 5 inches big man who played with South Western University Cobras in the CESAFI.
Leave a Reply