Yeng Guiao considers Manny Pacquiao in the PBA Draft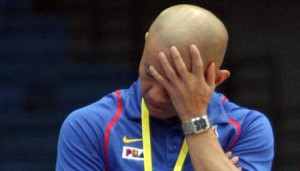 MANILA, Philippines — Rain or Shine Elasto Painters have many options for the second overall pick in the coming PBA Draft that will be held at Midtown Atrium, Robinson's Place Manila on August 24, 2014.
The Rain or Shine Elasto Painters, the team that won two second place finish last season, are looking to a talented Big man that this year's PBA Draft Pool does not have.
"There's definitely no one (in the pool) of the caliber of the big man that we are looking for," said by Rain or Shine Coach Yeng Guiao.
"I will meet with the owners on Friday or Saturday and then we will decide," added by coach Yeng
Rain or Shine have many options for the second pick that includes drafting boxing superstar Manny Pacquiao.
"We are open to everything. We will use that pick well—including the chance of drafting Manny Pacquiao," said Guiao in a serious tone.
"We will get Pacquiao and not look at it as a wasted (second overall) pick because we will trade him to KIA for their first-round pick (next season, which could likely be the first overall)."
KIA together with Blackwater are the league's two expansion team this season and the two more likely to own the top draft picks next year.
As point guard Stanley Pringle locked on first overall pick by Globalport, second overall pick will be unpredictable as the Elasto Painters will likely take a look at players namely Chris Banchero , Kevin Alas, Matt Ganuelas, and Jake Pascual.