Manny Pacquiao to play billiards against the world's best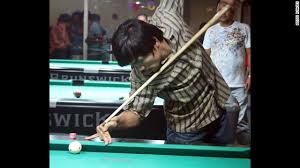 Boxing icon and congressman Manny Pacquiao invited popular pool players like Ralf Soquet of Germany, Earl Strickland of the United States,  Mika Immonen of Finland and Thorsten Hohmann of German to compete in the five-day International Open 10-Ball Tournament, according to report.
Players from 30 countries will be participating in that tournament giving away a total prize of P5 million. The tournament is to be played at the Pacman Multi-Sports Gymnasium in the Tambler district of General Santos on September 1 to 5. Other notable players are Jason Shaw of Canada, Darren Appleton of the United Kingdom and Rodney Morris of the united States.
Of course, the Filipino players are not left-out for the event that includes the pairings of Nickoy Lining and Ramil Gallego; Jeff de Luna and Jeffrey Ignacio; Gaga Gabica and Israel Rota; Efren 'Bata' Reyes and Django Bustamante; and Dennis Orcollo and Carlo Biado.
Pacquiao is to be paired with international pool champoin Marlon Manalo.
"Top billiard players from 30 countries have already confirmed their attendance," said Pacquiao.
The main goal of the congressman is to promote promote not just the image of Sarangani and General Santos but of the entire Mindanao.
The tournament champion will win $40,000 plus a trophy and the runner-up will get $15,000.
Leave a Reply