DLSU pushes UP to its 27th straight losses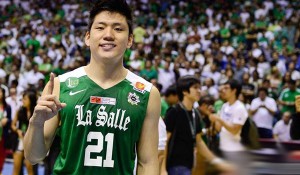 MANILA, Philippines - The De La Salle University Green Archers crushed the University of the Philippines Fighting Maroons with the score of 74-53 in the 77th season of the UAAP men's basketball Tournament at the Smart-Araneta Coliseum Wednesday.
After trailing by one point in the opening minutes in the first quarter, the Green Archers pulled away by a 17-0 run taking the lead, 20-4 and never looked back. The biggest margin of the game came in 2:24 mark of the second quarter with the score 47-15.
Jeron Teng led the Archers with 25 points and 11 rebounds while guard Almond Vosotros added 15 points with 5 assist to help La Salle to their 4th straight win of the season.
Despite of the victory, coach Juno Sauler was not satisfied with the team. "There was not much energy in the second half compared to the first," Sauler said.
"I think we're playing better not because we are on a winning streak but generally, we are playing better," added Sauler, whose team recovered after a two straight losses in the start of the season.
UP guard Kyles Lao scored 13 points for the maroons who lost all of its 6 games in the tournament and currently at the bottom of the standing.
For the Maroons they have now lost their 27th straight overall game dating back to 2012 in Season 75.