Azkals coach Thomas Dooley: Unacceptable, unprofessional, and selfish
By norvelyn viernes+ on August 7, 2014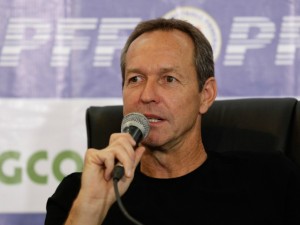 Amidst controversy, Azkals coach Thomas Dooley finally came out to explain his side over the resignation of Stephan Schrock and Dennis Cagara from the Philippine National Football Team.
Dooley considered the move of Schrock and Cagara "unacceptable, unprofessional, and selfish" becaue they used the social media to announce their resignation.
Dooley's words over the Filipino-German Schrock were harder to take when he said,
"He is going all over the world and then hammering us over here on what kind of a chicken farm we are and he is not playing for me anymore because I don't like foreigners, that I don't want those players playing for the team,"
The Philippine National Football Team coach even called Schrock a liar.
Dooley reiterated that if his players were not satisfied with the lineup, they should have talked to him instead of turning to social media.

Norvelyn, a fresh Political Science graduate from Saint Louis University, has brought her skills in writing. Her expertise in sports provides this site quality news.
You may also like...
Now…

Facebook

BOXING

rosario cayao+ | August 28, 2014

Filipino boxer Randy Petalcorin won the World Boxing Association Interim World Light Flyweight title defeating Walter Tello of Panama by a knock out in the seventh round at Mercedes-Benz...
Categories

The Blow provides you the latest sporting news in the Philippines.