Gilas closes exibition games in a loss to the Dominican Republic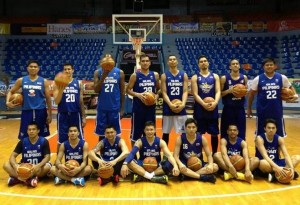 The Philippine national men's basketball team Batang Gilas gave a hard time in a loss to the Dominican Republic on a tight with the score 86-79 in their tune up game in Guadalajara, Spain before heading into the 2014 FIBA Basketball World Cup.
Gabe Norwood led Gilas Pilipinas with 17 points, four rebounds and four assists while naturalized NBA player Andray Blatche added 16 points and eight rebounds. Playmaker LA Tenorio was the only other Filipino who scored in double digits with 10 markers.
Gilas Pilipinas battled the Dominicans without FIBA Asia Championship All-Star Five member Jayson Castro who was nursing a foot injury and sat out most of their tune-up games with less than a week remaining until the opening of the World Cup.
Gilas sparked a 9-0 run in the opening quarter to take an early lead 13-7 but the Dominicans became alive as they tied the game 21-all, at the end of the quarter. The second quarter became physical as one hard foul to another. The Dominicans only lead by just four points 48 to 44 over the Philippines at the end of the first half.
The Dominicans tried to pull away in the third quarter as they piled up as high as 10 point lead, but the Filipinos fought back narrowing the gap 57-54 before the final quarter.
Gilas Pilipinas took the lead 68-67 after Jeff Chan converted a three pointer. However,Houston Rockets wingman Francisco Garcia and former US NCAA star Edgar Sosa took the charged for the Dominicans as they regained the lead. Norwood nailed a three pointer to trimmed the deficit to two under two minutes remaining. But the Dominicans answered with a 6-1 ran to snatch the win.
The Philippines will open its FIBA World Cup campaign on August 30 facing European team Croatia.
Leave a Reply