Gilas Pilipinas Schedule for 2014 Asian Games
Gilas Pilipinas has a legitimate shot for the Gold Medal in the upcoming Asian Games, that is if Andray Blatche would be in the roster. With the naturalized center playing for Gilas, the defense that stifled the opposing teams like Senegal, Croatia, Argentina, and Puerto Rico will be against South Korea, Iran, and even China.
A Blatche-less Gilas basketball team would bring too much pressure on the June Mar Fajardo and Japeth Aguilar, who are the only two centers. It's troublesome for the Philippine National Basketball team to end up without a reinforcement, not even the inclusion of Marcus Douthit. Hopefully, the Olympic Council of Asia (OCA) and the Incheon Asian Games Organizing Committee (IAGOC) will change their stand on this situation as delegations from the Samahang Basketbol ng Pilipinas attempts for a plea. At least SBP can convince OCA and IAGOC to allow a replacement for Blatche, the best possible is Douthit.
Gilas Pilipinas will not have a chance to win the Gold medal without Blatche or Douthit. Iran is such a powerhouse team that the Philippines lost to last year here in Manila. Part of the success of Gilas in the FIBA World Cup was the presence of a center to block and intimidate shots.
Here's the complete Schedule and the Groupings of Gilas Pilipinas for the 2014 Asian Games.
(Hwaseong Sports Complex Gymnasium, Incheon, South Korea)
Sep 20 – Start of Qualifying Round
(No Game for Gilas Pilipinas since automatically qualified for Preliminary Round)
Sep 23, 2pm – Gilas Pilipinas vs 1st Place of Group B (Saudi Arabia, Kazakhstan, Palestine, India)
Sep 25, 2pm – Gilas Pilipinas vs Iran
Sep 26-28 – Quarterfinals
Oct 1 – Semifinals
Oct 3 – Finals
* Top 2 Teams from Group C, D, E, F will enter Quarterfinals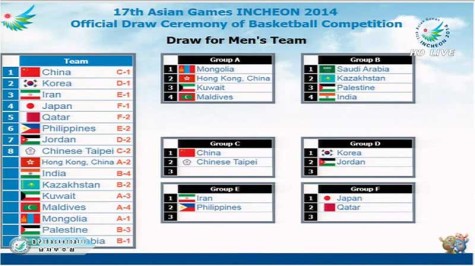 Leave a Reply