Andray Blatche eligibility in Asian Games is in peril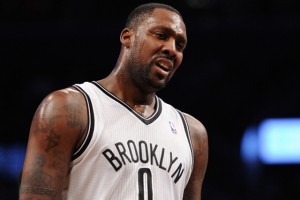 Naturalized center Andray Blatche eligibility in playing for the upcoming Asian Games for Batang Gilas has again surfaced.
The Philippine Olympic Committee informed that a letter from the Incheon Asian Games Organizing Committee was received, asking for a proof of the eligibility of the of Blatche, Gabe Noorwood and Jared Dililinger, to furnish the committee with the necessary documents to prove that they are eligible.
The IAGOC cited article 50 of the Olympic Council of Asia (OCA) Eligibility Code that explains, particularly, that Blatche is not eligible from competing in
the Asigan Games.
The provisions found in Sections 2b, 2c and 3 of Article 50 of the OCA Eligibility Code entitled "Necessary Conditions for Representing a Country."
"Competitors will be eligible if they comply with the following qualifications:
b. That they are nationals or citizens of the country they represent and have lived there continuously for a period of not less than three years.
c. That they have become naturalized in the country they represent and have permanent residence there.
"3. Competitors born outside of Asia cannot be qualified unless they meet conditions in 2b and c, where applicable."
Based on these provisions, the path of Blatche to compete in the Asian Games is totally obscured.
Blatche played for the Brooklyn Nets in last years NBA and he remains a free-agent.
Blatche will certainly play in the FIBA World Cup that is set to start on August 30. FIBA regulations only require a player to have a passport of the country he plays for.
On the other hand, if Blatche would be barred in the Asian Games, Gilas Pilipinas will only have 11-man roster. OCA rules disallow last-minute additions if their names are not included in the provisional roster earlier submitted.
Here are the Philippine National Team 12-man roster:
Andray Blatche?
Jayson Castro
LA Tenorio
Gary David
Jeff Chan
Gabe Norwood
Ranidel De Ocampo
Marc Pingris
Japeth Aguilar
June Mar Fajardo
Paul Lee
Jared Dillinger
Will the Batang Gilas be able to compete and win the Gold Medal without Blatche?