UCLA vs Virginia: Hundley shines anew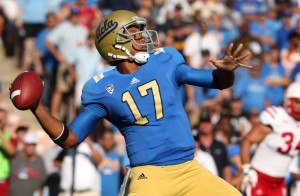 The UCLA Bruins start their season in an encounter against the Virginia Cavaliers on Saturday, August 30, at 12:00 PM ET, at the Scott Stadium Charlottesville, VA.
In the spotlight for the Bruins would be starting quarterback Brett Hundley, who aims to break UCLA's all time passing record. If the No 7 Bruins continue to ascend through the passing game of the quarterback, there's no doubt that Hundley would be a potential Heisman Trophy contender.
UCLA's 18 starters from last year's roster are back to the club. This is one of the reasons why coach Jim Mora is being attributed to the success of the Bruins. Moreover, Mora led the team into two winning seasons.
The Bruins will continue to flourish through the return of Devin Fuller, who caught 43 times for 471 yards, and Jordon James, who rushed for 425 yards. Myles Jack also will be one of the reliable players that Mora can utilize as the season progresses.
The Virginia Cavaliers have quarterback Greyson Lambert as the starter. Last season, he completed 44 percent of his 75 passes. Moreover, Kevin Parks would pound the ball on the ground for the Cavaliers to have an effective offense. In 2013, he rushed for 11 touchdowns.
Virginia defense needs to be in total display especially that safety Anthony Harris plays. In 2013, he was the leader in interceptions with eight. If Virgina has to win this match, the defense would be engaged in deeper and physical ways.
UCLA Bruins vs Virginia Cavaliers tv channel schedule is on ESPN.
Which team will win the football game?