Gilas Pilipinas loses, but with a fight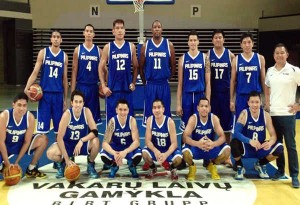 Gilas Pilipinas basketball team failed to beat France, 75-68, in the exibition game tournament Saturday in Antibes.
Despite of the loss, The Philippine National Men's Basketball team continued to impress headcoach Chot Reyes when naturalized-NBA player Andray Blatche scored 12 points to help the cause Gilas.
With 7:00 left in the fourt quarter, Gilas even had a 60-55 lead after Jimmy Alapag scored a three-pointer. However, France dug deeper to overturn the result by mounting a 20-8 run the rest of the game.
The French team was led by NBA players Nicolas Batum, who had 16 points and 11 rebounds, and captain Boris Diaw, who is a member of the champion San Antionio Spurs. Diaw contributed to the team with 10 rebounds and only one point.
Aside from Blatche, Paul Lee also scored 12 points while Jeff Chan added nine points. Included in the scoring for Gilas are Alapag and Ranidel De Ocampo, who scored with eight apiece.
Guard Antoine Diot delivered his best by knocking his outside shots, scoring eight points in that run. Also Joffrey Lauvergne had six points to complete the rally.
Because of the height disadvantage, Gilas utilized their capability of shooting outside the arc by making 12-of-29 shots. Chan connected three triples. Alapag, De Ocampo and Lee with two three-pointers apiece.
Though Blatched did have 12 points and seven rebounds, he made only five of his 17 field goals.
Leave a Reply