University of Perpetual Help outlasts Lyceum Philippines University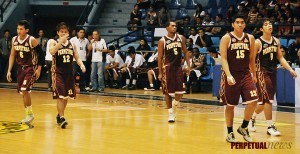 Gab Dagangon fired 14 points off the benched to help the University of Perpetual Help System DALTA to beat the Lyceum of the Philippines University, 65-60, in Season 90 NCAA Seniors basketball Saturday at The Arena in San Juan City.
Perpetual have stars like Scottie Thompson, PBA rookies Juneric Baloria and Harold Arboleda. But Dagangon took the spotlight with a career performance for his team.
The Pirates stayed close to Altas in the first two quarters, ending the first half 26 all. In the third quarter, Perpetual started hot and took the lead, 41-38, midway in the quarter after a Baloria's four consecutive points. The deficit piles up at the end of the quarter, 50-40, after Dagangon scores at the buzzer.
The hot shooting of Dagangon continued in the fourth as he connected his jumpers and shots from beyond the arc. The Pirates fought back behind Joseph Gabayni three-point play with less than two minutes that closed the gap to 65-58. But the Perpetual stood still to take away the victory.
Dexter Zamora scored 18 points while Gabayni had 14 points and 10 boards for the Pirates.
Baloria added 12 points, and Thompson had a double-double effort with 10 points and 16 rebounds to help Altas for their sixth win of the tournament.
With the victory Perpetual now were tied at third place in the standings with the Jose Rizal University and College of Saint Benilde.