Paolo Taha's 26 points bring the Blazers on top over the Pirates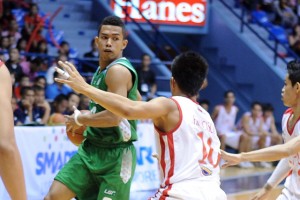 COLLEGE of St. Benilde overpowered Lyceum of the Philippines in a 74-66 victory to keep their hope alive in making to the final four in the NCAA Season 90 men's basketball tournament at The Arena in San Juan.
Paolo Taha led the way for the Blazers with an outstanding performance as he scored 26 points, 19 in the in the second half, and also grabbed nine rebounds.
Taha also made a big shot as he converted a pull-up jumper with less than two minutes remaining that pushed Benilde's to four point lead, 70-66. Then Romero completed his shot from charities to put the blazers ahead, 72-66, with 34.8 seconds remaining. Lyceum has the chance to close the gap but Baltazar's three point shot from beyond the arc was way off.
Taha was selected as the 29th pick of this year's PBA draft by the PBA expansion team KIA Motors. Kia also selected Blazers Mark Romero in the 44th pick.
Rookie big man Joseph Gabayni paced the Pirates with 11 points and collected an impressive 20 rebounds in a losing effort.
With the win, the Blazers are now tied with the Perpetual Help for third place in the standing with 7-4 record.