Central Michigan vs Chattanooga: Tv schedule, an offensive game is anticipated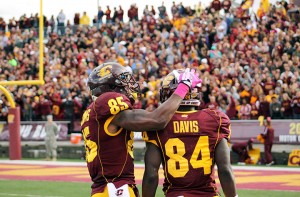 The Central Michigan Chippewas face the Chattanooga Mocs in Thursday's college football game at 7:00 PM ET, at the Kelly/Shorts Stadium
Mount Pleasant, MI.
The Mocs are prepared for a big encounter over the Chippewas. To kick off the Mocs 2014 season, the gameplan is to utilize their speed in derailing their opponents' defense. Also, the Mocs are not intimidated by the bigger players of the Chippewas.
Chattanooga head coach Russ Huesman understands that Central Michigan's wide receiver Titus Davis talent will be in display and that they have to contain him. Huesman said that Davis will get his catches but they are ready to do everything to cancel the big plays.
The Mocs have their sophomore quarterback Jacob Huesman (13-7 record as a starter), who was recognized as the 2013 Southern Conference Offensive Player of the Year in the FCS. He was responsible in leading the Mocs into 8-4 record.
For CMU, Cooper Rush is expected to be the starter in this game. He just took over the quarterback last season following an injury to starter Cody Kader. Furthermore, Cooper has one of the most prolific receivers in the college football, Davis, who can take long passes.
Included in the weapons of the Chippewas is running back Saylor Lavallii. He also was significant in helping the Chips in 2013 when he garnered 807 yards and five touchdowns.
This game is not given easily for the Chips because the Mocs have something to offer to be reluctant to lose.
Central Michigan Chippewas vs Chattanooga Mocs tv schedule is on ESPN 3.