JRU trounces EAC to tie for third place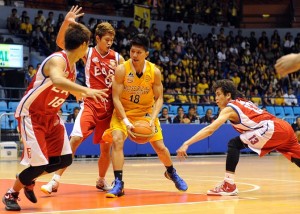 The Jose Rizal University Heavy Bombers released an early first quarter avalanche of points to destroy the Emilio Aguinaldo College Generals in the NCAA Season 90 Friday at The Arena in San Juan.
The Heavy Bombers led by Michael Mabulac, who had 14 points, 18 rebounds and four assists, in pulling way the game as early in the first quarter.
Philip Paniamogan's hands were hot in the first quarter that paved the way for JRU to have a 17-point lead, 22-5. Paniamogan was determined to distance the Bombers as early as possible.
However, the Generals were not bothered as they staged a 12-3 run, making the score into 27-19. EAC couldn't maintain the momentum until JRU took control of the rest of the game.
Jaycee Asuncion added 14 points, while Paniamogan had 12 points.
JRU is now tied for third place with Perpetual Help and College of Saint Benilde with 7-4 record.
"The boys practiced well and trained hard the past few days, and it showed in this game," said JRU coach Vergel Meneses.