Asian Games Gilas Pilipinas Schedule 2014: Will Gilas be able win the gold medal?
The basketball fans in the Philippines are in anticipation on how well the Gilas Pilipinas would be playing in the upcoming Asian games. Just recently, Philippines rankings in FIBA was upgraded from 34th to 31st in the basketball rankings.
One of the problems facing the Filipinos right now is the situation of naturalized center Marcus Douthit, reportedly being protested by other countries, who could be negated from the roster at any time.
Without Douthit in the lineup of the Philippines, it would be impossible to beat contenders like China, Iran and South Korea. This leaves to 11-man roster with only two big-men, June Mar Fajardo and Japeth Aguilar.
If that be the case, Gilas Pilipinas would rely on the outside shooting of Jeff Chan, Ranidel De Ocampo, LA Tenorio and Jimmy Alapag. The element of pounding the ball inside would not be part of the strategy of coach Chot Reyes.
Here's the current roster of Gilas Pilipinas
Marcus Douthit, Jared Dillinger, Jimmy Alapag, LA Tenorio, Paul Lee, Jeff Chan, Gary David, Gabe Norwood, Ranidel de Ocampo, Japeth Aguilar, June Mar Fajardo, and Marc Pingris
(Hwaseong Sports Complex Gymnasium, Incheon, South Korea)
Sep 20 – Start of Qualifying Round
(No Game for Gilas Pilipinas since automatically qualified for Preliminary Round)
Sep 23, 2pm – Gilas Pilipinas vs 1st Place of Group B (Saudi Arabia, Kazakhstan, Palestine, India)
Sep 25, 2pm – Gilas Pilipinas vs Iran
Sep 26-28 – Quarterfinals
Oct 1 – Semifinals
Oct 3 – Finals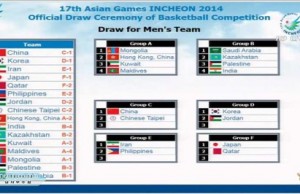 Leave a Reply