Batang Gilas suffer a defeat against Greece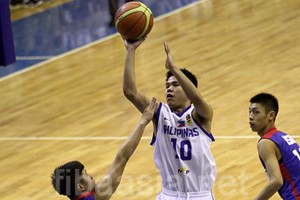 The Philippine U17 national basketball team Bating Gilas showed a good fight but lost to its second Group A assignment 85-65 versus Greece in the 2014 FIBA World Under-17 Championship on Saturday at the Al-Shabab Arena in Dubai, UAE.
Batang Gilas Pilipinas stay close to the Greeks at the opening quarter behind Jolo Mendoza with the score 25-17 at the end of 1st quarter.
But the Greeks started connecting their shot from long range and outscored the Filipinos in the next two quarters 38-16 and never look back. The Philippines fall to a big Bubble with 30 points at the end of the 3rd quarter 63-33.
Despite the loss, Batang Gilas kept it tight until the last quarter, with their effort to close the deficit into 20 points. The Greeks dominate the rebounding department with 57 against 44 of the Philippines. They also connected 13 three pointers during the game.
Antonis Pefanis have a game high 26 points for the Greeks while guard Koniaris added 14.
Jolo Mendoza led the nationals scoring 19 points, while team captain Mike Nieto post with double-double 11 points and 13 rebounds for Batang Gilas.
The Philippines will end its Group A campaign against the mighty Team USA, on Monday.
Leave a Reply