Team USA dominates Slovenia in the World Cup exbition game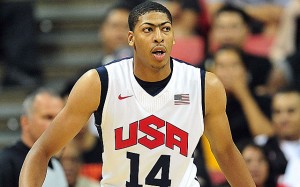 The United States Men's Basketball Team outlasted Slovenia, 101-71, through the magnificent performance of Anthony Davis, in its final tune-up before the 2014 FIBA Basketball World Cup in Spain.
Davis had 18 points, 11 rebounds, four steals and four blogs to lead the Team USA in winning all of its four games in the in the summer tour.
The Americans started by attacking the basket that enabled them to take 15 free throw shots in the first quarter alone. But Team USA just drilled in eight of those 15 free throws that allowed Slovenia to stay near through its three-point baskets, trailing by six points.
Team USA felt that they needed something of a spark when they had a 14-0 run in the second quarter. Slovenia still recovered from that spurt through Zoran Dragic's scoring as the USA led only 10 at halftime.
As the third quarter progressed, Team USA blew Slovenia away to create a separation in which Slovenia couldn't match.
Kyrie Irving scored 13 points on a 3-of-5 shooting. Irving started the game over Derrick Rose, who miss his three attempts.