JRU tops Arellano in tripple OT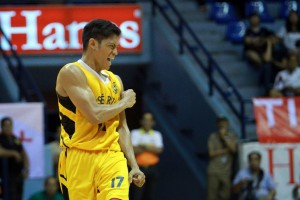 Manila, Philippines - The Arellano University Heavy Bombers outlasted Arellano University Chiefs, 99-98, in three OT through the scoring prowess of Jaycee Asuncion, in the National Collegiate Athletics Association of the Philippines at the Arena in San Juan Friday night.
Asuncion put JRU, 99-96, as he scored in two consecutive possessions with 25 seconds left in third OT. JRU scored 14 points in the third OT and Abdul Wahab delivered the first basket for JRU to go ahead at 87-85.
Meanwhile, the Chiefs had a chance to win the game when they had an eight-point lead entering the fourth quarter, 51-43. But JRU pulled off a 19-3 run even to take over the lead, 67-62.
"It all boils down to who wants it more," Meneses said as his team improves to a 4-3 slate for a tie with the Lyceum for fourth.
Leave a Reply