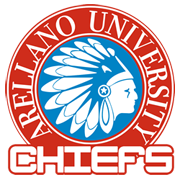 MANILA, Philippines —The Arellano University Chiefs grinded a narrow victory as they survived a late rally of the Mapua Cardinals in a 82-79 win in the NCAA Men's Season 90 men's basketball tournament at the Filoil Flying V Arena in San Juan City.
The Arellano University Chiefs blew their 10 point lead early in the fourth quarter as the Cardinals exploded to an 18-9 run to tie the game at 76. Mapua's CJ Isit connected a three-point shot cutting the lead to only just one 79-80 with 5.2 seconds left on the clock, but guard Jiovani Jalalon converted his two free throws to seal the win. The Chiefs denied Mapua's late surge as they made all of its last six free throws in the final 18.5 seconds.
Guard John Pinto scored 25 points, grabbed three rebounds and had three assist. He scored 13 of his 25 points in the opening quarter.
"We relaxed at the offensive end and we were careless that's why we committed a lot of turnovers," Pinto said.
"We're at the top so we can't afford to lose games we're supposed to win," Pinto added.
Jalalon had 18 points off the bench; he scored 10 points in the fourth quarter to stop the late surge of Mapua. He had also eight assists and four steals.
Isit led the Cardinals with all-around performance 21 points, eight rebounds, seven assists and four steals but was not enough to complete a come-from-behind victory.
Arellanostill shared the top spot of the tournament to San Beda with a 9-2 record.