Batang Gilas bows to Chinese Taipei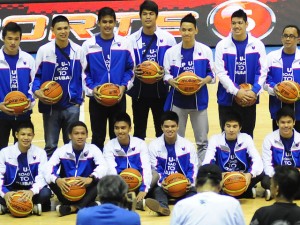 The Philippine National Youth Basketball team suffered a heartbreaking defeat in the hands of Chinese Taipei with the score, 90-86, in the knock out quarterfinals of the FIBA Asia Under-18 Championships at the Al-Gharafa Stadium in Doha, Qatar.
National University Mark Dyke led Batang Gilas with a double-double 26 points and 13 rebounds, while Ranbill Tongco poured out 16 markers along with eight assist. Kobe Paras had a nice game as he scored 15 points and grabbed 11 rebounds but was not enough to beat the Taiwanese and to advance in the semifinal round. The Lost also eliminated the Philippines in the contention to be qualified in next year's World Championships.
Batang Gilas ended the first quarter with a 29-25 advantage. Chinese Taipei's turned the momentum on their side in the second quarter as they took a 55-51 halftime lead.
A shot from Ssu-Han Tu at the 5:30 mark of the third quarter pushed a nine-point lead for the Taiwanese, 65-56. Batang Gilas fought back to cut the deficit to just one, 75-74, before entering to the fourth period.
Tongco converted his two free throws in 7:20 mark in the final period to regain the lead for the Philippines. Dyke made a shot to push a three-point lead. But Tu three-point shot tied the game with 6:33.
Paras free throw and Paul Desiderio field goal forced an 86-all, in just 1:18 remaining in the final quarter. However Ming-Yi Lin made a huge three pointer, 89-86.
The Philippines lost the next possession as Joshua Caracut turned the ball over. Batang Gilas regained the possession with 17 seconds left but Paras and Dave Yu unable to capitalize.
Tu hit one of his two free throws to make it a two possession game as they take away the victory.
Tu led Chinese Taipei with 23 points.
Batang Gilas will be facing Kazakhstan as they battle for as high as fifth placed to finish the tournament.