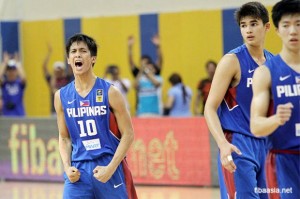 Joshua Caracut delivered the game-winning three-pointer in the dying seconds to carry the Philippine Youth Under-18 team over Malaysia, 72-69, in the Fiba Asia U-18 Tournament in Doha, Qatar.
In crunchtime, Caracut found a space outside the arc as he scored for that remarkable three. The victory of the Philippine team "Batang Gilas" paved the way for a showdown with Chinese Taipei in the quarterfinal round.
Radge Tongco scored 22 points to lead Batang Gilas. Tongco also made some shots with the game on the line. Mark Dyke added 10 points and 10 rebounds, while Kobe Paras had an all-around game with 12 points, four rebounds and three steals.
It was a thrilling game as the Malaysians were not able to seize opportunities by missing two free throws, when Gilas' Manuel Mosqueda was dashed for unsportsmanlike foul, and by missing the three-pointer that supposed to force the game into overtime.