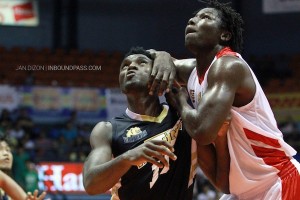 Manila, Philippines- The National University used a hot start to beat Ateneo de Manila University, 76-66, in UAAP Season 77 men's basketball tournament on Sunday at the SMART-Araneta Coliseum.
Bulldog's Cameroonian center Alfred Aroga scored 15 points, grabbed 11 rebounds, and a remarkable defensive display of eight shot blocks, seven of them came in the first half. Big man Troy Rosario had double-double with 14 points and 10 rebounds. Gelo Alolino also scored 13 markers.
The Bulldogs started hot from the field to take an early 18 point advantage, 20-4, in the first quarter. They also showed their fortified defense in shutting down Ateneo's offense in the opening quarter.
National University had a comfortable lead entering the last quarter. Then suddenly the Blue Eagles tried for a comeback in the fourth with a 14-2 run with 7:54 left in the clock to trim the deficit for only just five points. But the Bulldogs answered back after a timeout behind Alolino and Rosario back to back baskets to spark an 8-0 run to take away the victory.
Kiefer Ravena led the Blue Eagles with 18 points and seven assists while high flying Chris Newsome scored 12 points.
With the victory the National University now tied with the Ateneo in the third place of the standing with 7-3 record behind league leaders De La Salle University and Far Eastern University.