Gymnast Ava Lorein Verdeflor shines in 2014 Youth Olympic Games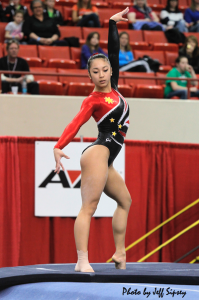 Gymnast Ava Lorein Verdeflor advanced to the medal round of the women's artistic gymnastics at the 2014 Youth Olympic Games in Nanjing, China.
"I didn't do good in my dismount but hopefully next time it will be better," Verdeflor said.
Finishing 12th place in the qualification round where 16 out of 40 contestants will be qualified. She was based in Allen, Texas with her family but represents the Philippines in international competitions. Verdeflor scored 50.200.
Seda Tutkhalyan of Russia led in the all-around (53.650) followed by Great Britain Elissa with (53.500) and Laura Jurca of Romania settling for third (53.250).
Verdeflor's performance satisfied her Russian coach Yevgeny Marchenko. "She has a lot of potential and I believe she can do much better," said Marchenko, who also coached Carly Patterson of U.S.A. in capturing the Gold in 2004 Athens Olympics.
"We're looking forward to many, many more years of topnotch performance from Ava," added by her coach.
"I have to be confident and get my nerves in check," Ava Lorein said, who trained before the Youth Olympics at the World Olympic Gymnastics Academy in Texas.
Ava Lorein Verdeflor will have another shot to refine her performance on Wednesday at Nanjing Olympic Stadium Gymnasium in the finals of both the all-around and uneven bars on Wednesday
Swimmer Yu out
Roxanne Ashley Yu fall short and does not make the final cut for women's 200-meter backstroke. Only eight participants will advance in the medal round at Nanjing Olympic Stadium Natatorium.
The Swimmer Yu's 2 minutes and 18.96 seconds was not enough to be able for her to qualify to the next round.
Only eight tankers advanced to the medal phase led by United States Hannah Moore followed by Australia's Amy Forrester.