China dominates Batang Gilas in a lopsided victory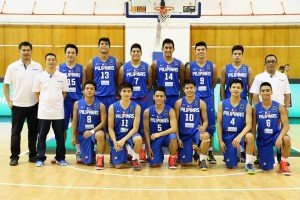 The Philippine National Youth team was crushed by powerhouse China, 91-49, in their Group E match up in the 23rd FIBA Asia U-18 Championship early Sunday morning at the Al-Gharafa Stadium in Doha, Qatar.
After a thrilling come-from-behind win over the host Qatar, Batang Gilas suffered their worst defeat of the tournament. The Filipinos led only once in the game after Mark Dyke converted a lay-up.
The Philippines was in the striking distance at the end of the first quarter with only seven point difference. However, China went to a 22-10 run in the second quarter ending the first half with 44-25 advantage.
China continued their onslaught in the second half and the Philippines was never able to threat a comeback for the game. The Chinese ended the game in a high note with a 42-point victory.
Batang Gilas struggled in the field against the defense of the Chinese as none of them scored in double digits. The Filipinos shot only 26% from the field. China also dominated the glass as they out rebounded the Filipinos 57-29.
Brandrey Bienes led Batang Gilas with nine points while Kobe Paras struggled in the field as he made only one out of seven attempts settling for four points. Team leading scorer Ranbill Tongco was ice-cold all game as he was held scoreless.
Zhao Rui with a game high 25 points led the Chinese. Four other players from China also finished in double-digits to remain unbeaten in the tournament.
Batang Gilas now two wins and two lost (2-2) and tied with Malaysia,they will be facing each other on Monday for their last assignment in the second round.