Mike Tolomia leads FEU to beat De La Salle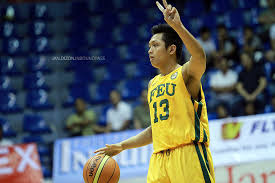 MANILA, Philippines — Mike Tolomia scored 22 points and came up with big plays in the clutch to propel the Far Eastern University against the defending champion De La Salle University, 74-70, in the UAAP Season 77 men's basketball tournament action on Wednesday at the Mall of Asia Arena, Pasay.
Tolomia was just released from Hospital due to tonsillitis and fever, coach Nash Racela admitted before the game that he did not know how well Mike will performed.
"Going into this game we weren't really sure about Mike because he was in the hospital right after our game last Saturday…," Coach Racela stated. "We just saw each other yesterday (Tuesday) so I don't know what to expect coming into the game but good thing he performed again.
De La Salle controlled the first half leading by nine points. But FEU became hot from the field in the third quarter. Tolomia made a field goal in the opening of the final period to take a 54-52 advantage.
Tolomia led the Tamaraws with 22 points, 19 points in the second half to complete a come-from-behind victory. He also capitalized the game-winning play as he grabbed the offensive rebound and made a follow-up shot after he missed his free throw with 5.9 seconds left in the clock. The Tamaraws sealed the win
Coach Racela flies to Spain to join the Gilas Pilipinas for their Word Cup campaign. Racela will miss the last two games of FEU.
Jeron Teng had a game high 28 points in a losing effort. As the Archers seven game -winning streak came to an end.
The Tamaraws were now solo at the top of the standing with an 8-2 record. While La Salle, Ateneo and National University tangled up in a three-way tie for second placed.
Far Eastern University vs De La Salle University scores and results:
FEU 74
DLSU 70