Radge Tonco leads Batang Gilas to overwhelm Jordan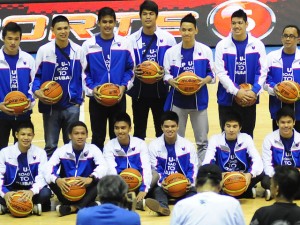 The Batang Gilas Pilipinas opened their FIBA Asia Under-18 Championship campaign with a victory over Jordan, 85-60, in Gharafa Stadium Doha, Qatar.
Radge Tongco had the hot hand leading Batang Gilas in scoring with 24 points; he also shot a remarkable 64.70 % from the field making his 11-out of-17 shot attempts. Andrei Caracut added 11 points, six assists and three steals. Paul Desiderio and Chino Mosqueda also contributed, with both of them scoring 10 markers.
Kobe Paras, the tallest player in the Batang Gilas line-up, had six points and grabbed nine boards to help the 2014 SEABA U18 champions for the win.
The two teams have a close battle ending the first quarter with the score 14-13. The score tied at 16 early in the second quarter, but Tongco and Caracut spark a 15-4 run which led to a 44-26 advantage for the Philippines in the end of first half. The Filipinos stayed hot in the 3rd quarter as they dominated their foe outscoring Jordan 28-13 and Batang Gilas never look back to cruised the win.
"I think we were selfish in the first quarter," Philippines coach Michael Ray Jarin said. "I just allowed them to make their mistakes and settle down on their own," added by Coach Jarin.
The Philippine National Youth Team next assignment will be last editions Silver Medalist Korea on Thursday. The game will decide which team will advance on top of Group B.