South Korea beats Batang Gilas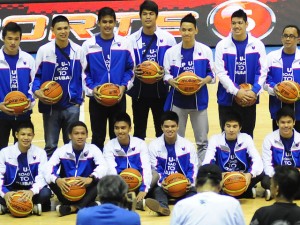 MANILA, Philippines - Batang Gilas Pilipinas lost their second assignment to South Korea, 87-69, in the 2014 FIBA Asia Under-18 Championships on in Doha, Qatar.
After a convincing 85-60 victory over Jordan at the start of the tournament, the Philippine National Youth team suffered its first lost to Korea.
Ranbill Tongco led Batang Gilas as he scored 24 points for second consecutive game in the tournament. He shot 5-of-10 from three point line in a losing effort. Mark Anthony Dyke had double-double with 10 points and 13 rebounds while Aaron Black, son of coach Norman Black, finished with eight points and six rebounds.
The Philippines started strong to take the lead early, 10-4, but the Koreans answered right back with a 19-7 run to have a six point advantage ,23-17, to end the first quarter.
In the second quarter the Filipinos stayed close with the Koreans behind Tongco's three pointers as he scored 17 points at the half. But Korea managed to maintain their six point advantage at halftime, 45-39.
Batang Gilas hung on tight in the third quarter. However, South Korea started the fourth quarter on a 15-6 run and never looked backed as they sealed the victory.
Batang Gilas will move to the next round where it will be facing three teams that will advance from Group A that would be likely India, Qatar and powerhouse China.