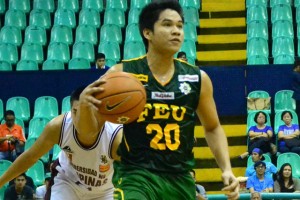 Far Eastern University started strong to beat the University of Santo Tomas, 66-55, in UAAP Season 77 Men's Basketball Tournament Saturday at Mall of Asia Arena, Pasay City.
After a seven unanswered points in the opening quarter, the Tamaraws were focused and took a 22-5 lead and never looked back. The Tamaraws maintained their lead in the second and third quarter. The Growling Tigers tried to rally in the game in the late in fourth quarter as they trimmed the gap to just 11 points. But FEU stayed strong as the times expired to clinch the victory.
Big man Karim Abdul led the Growling Tigers with a season-high 24 points and 16 rebounds, while Louie Vigil added 17 points.
Roger Pogoy led the charged for the Tamaraws with a career high 19 points. Mac Belo added 12 points and grabbed eight boards to help FEU for the win. FEU now had 7-2 win lost record.
With the win they set a three-way tie with the defending champion De La Salle and Ateneo de Manila at the top of the standing. National University is in fourth place with 6-3, UST and UE tied at fifth place. UP is at seventh place, while Adamson remains at the bottom of the standings.